The Vesterheim Museum in Decorah, Iowa, is dedicated to Norwegian heritage. (I learned about it while researching places that might help me with my BCG portfolio projects.) It contains an amazing collection of Norwegian artifacts depicting life in Norway and in immigrant America. The craftsmanship of the items on display is beyond description. Walking through the four floors of exhibits, not to mention the many buildings on the grounds behind the museum, one can experience life in 19th century Norway, leaving a beloved family and homeland for America, and the immigrant's life in their new home. Visiting a site such as this always puts me in awe of the fortitude of our ancestors. We owe them so much. Learning about their lives is one way to show our gratitude for their sacrifices.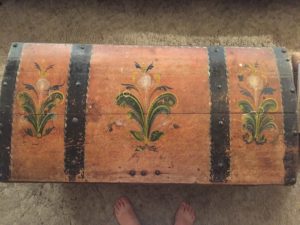 As I continue on this journey to certification, I am amazed by the many unexpected turns my path has taken. One of the staff at the museum, upon learning of my interest in genealogy, suggested I visit the Decorah Genealogical Society. This was not on my radar, but I was ecstatic to find a new repository of information. For anyone interested in researching ancestors from Winneshiek County, Iowa, Norwegian or otherwise, I highly recommend you visit the Decorah Genealogical Society.
The librarian/archivist on staff the day I visited was wonderful! She helped me find Norwegian emigration records and birth records I had not yet located on my own, taught me about Norwegian internet sites I had not used before, and took me on a tour of their society's abundant resources. At least six rooms filled with books, microfilm, maps, and more. What a goldmine I stumbled into!
You just never know where and when you will find that one record, that one repository, that one person who will help break through a brick wall. The joy is in the journey!